METT Hotel & Beach Resort Marbella
Did you know?
That due to our special relationships, our resorts offer us the best packages available.
Spain
Exclusive offers & savings
Book early to secure our lowest rates
UK return flights
Luxury accommodation
Golf included
Booking flexibility
Personal concierge travel advisor
ATOL & ABTA protection

Save now
Recommended: We've been to the METT Hotel & Beach Resort Marbella
Request a Quote
Enjoy an unforgettable holiday in Marbella.
This 5-star resort nestled along the sun-drenched shores of Marbella, between the glistening Mediterranean Sea and Andalusian mountains, offers guests unparalleled luxury combined with natural beauty. The METT Hotel & Beach Resort features 249 elegant and beautifully designed guest rooms and suites perfectly positioned beside the property's state-of-the-art Azure Beach swimming pool, serving up stunning views of the Mediterranean Sea.
This exceptional resort effortlessly blends relaxation with adventure and luxury in one of the most renowned destinations for the rich and famous – so whether you're seeking the perfect destination for the annual golf trip or romantic couples getaway, this 5-star resort is your gateway into an unforgettable experience on the beautiful Costa del Sol.
Marbella and surrounding areas are some of the most well-known golfing region in Europe, with several contrasting championship golf resorts and courses attracting golfers from all over the world.
The climate in the Costa del Sol continues to be superb, especially in the Marbella region, which has a particularly impressive year-round micro-climate.
When you're ready to take a break from the many golf courses nearby, the hotel's facilities are nothing short of spectacular. Featuring a MOI Spa RAISE Fitness & Wellness Centre, a combination of trendy and appealing dining options – including the Isola Ristorante Italiano and Ammos Greek restaurant (coming summer 2024) to get your taste buds tingling – plus a medley of chic social spaces with fantastic views and great music to relax to.
This famous corner of Costa del Sol dishes up great beaches, a year-round climate, exciting leisure facilities along with sensational culinary experiences. So, what are you waiting for? Come and discover a world where luxury meets paradise at the METT Hotel & Beach Resort in Marbella.
Nearby golf course

Restaurant and Bars

Private Beach

Infinity Pool

Kids Pool

Spa & Wellness Centre

Conference Rooms

Watersports
At The METT, every guest is unique, which is why they offer an array of accommodation options to suit every need and preference. Whether you're seeking a romantic getaway or a family-friendly stay, this resort has it all.
Discover what makes this resort special. Here are our personal highlights.
The METT Hotel & Resort's core values reside in giving their guests an unforgettable dining experience. The focus surrounds providing the opportunity for guests to sample the finest Mediterranean flavours and International cuisines, alongside fun and unique entertainment. From well-known brands like Azure Beach, Ammos, or Isola to Michelin-style dining, each restaurant concept is sure to attract clientele from both inside and outside the hotel, with a menu of fresh seafood, tapas and delicious cocktails – plus a balmy sea breeze to match.
No holiday experience is complete without a balance of thrill and relaxation, right? At the newly coming MOI Spa, skilled spa therapists will be able to help you choose the best spa treatment designed to soothe, pamper, de-stress and invigorate the mind and body, depending on your personal preferences. Looking to unwind and disconnect from everything around you? This is an important part of what MOI Spa offers, with a wide range of services available, from traditional treatments such as massages, facials, wellness treatments and beyond.
The METT Hotel & Beach Resort offers you RAISE Fitness & Wellness. Its focus is to provide inclusive fitness experiences and cater to a wide population who are looking to incorporate physical exercise into a balanced lifestyle. RAISE has a strong community feel, making it a place where you feel like you belong.
Step into an inviting environment built on compassion and acceptance, bringing a sense of community along with it. They hold a holistic approach to wellness and address the needs and passions of clients – meaning there's something for everyone. The setting is bright and simple, it is never too loud nor too aggressive. It is a natural feel-easy environment.
Nearby is La Quinta Golf & Country Club, with three unique 9-hole courses, boasting stunning panoramic views of Marbella's Golf Valley. Designed by three-time World Champion and Ryder Cup winner Manuel Piñero, La Quinta requires accuracy and stamina in order to avoid the deep bunkers and manipulate the sloping fairways. There is also a Clubhouse Restaurant, driving range and putting green. Other nearby courses include El Paraiso & Los Naranjos.
Don't just take our word for it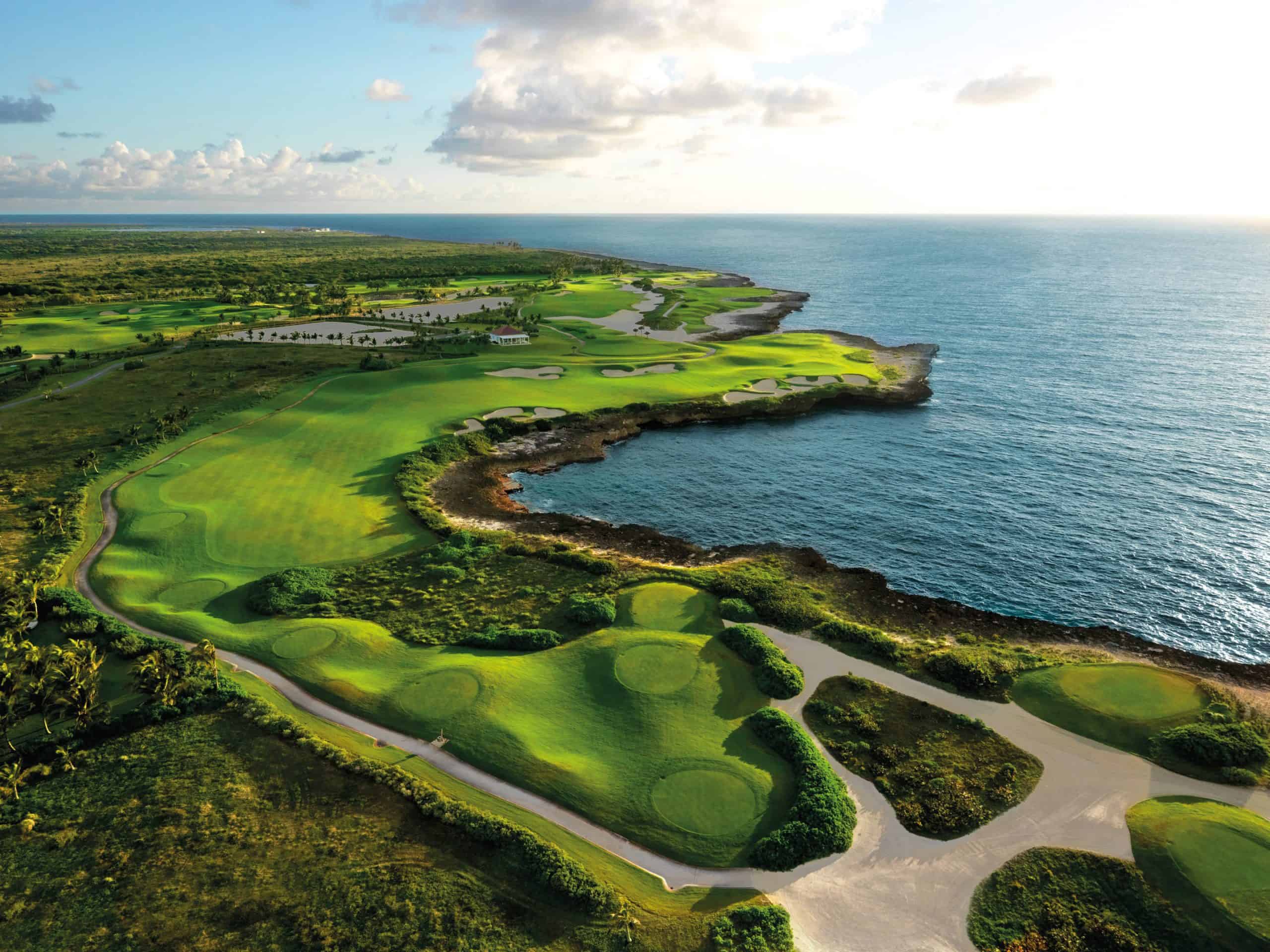 Tee off your
holiday the
right way.
Our holidays are ABTA protected