Destination Focus: Turkey
Gone are the days where Turkey was considered simply a 'rising star' of golf; these days you're more likely to find Rose and Fleetwood favouring its courses over those of Italy or France.
With an abundance of championship golf courses, a temperate Mediterranean climate and luxurious yet affordable 5-star hotels, Turkey is a serious contender for offering the best golf holidays in Europe.
In a league of its own is Belek; once a small fishing village surrounded by swamp land but now the best location in Turkey for enjoying a golf holiday. Its numerous courses include the Faldo-designed course at Cornelia Golf Club, the Montgomerie MAXX Royal and the Old Course at Gloria Golf Club, who's 'New Course' features an infamous island green on the 17th. Offering challenging fairways, beautiful landscaping and some sizeable sand and water hazards, Belek is a golfer's paradise. Off the course, Belek's clean white beaches and proximity to ancient archaeology — including the Roman amphitheatre at Aspendos and ancient Greek city of Perge — will appeal.
For those looking to make a quick getaway to the first tee, the Cornelia Diamond Golf Resort & Spa is an excellent choice. Just a ten-minute walk from Cornelia Golf Club, this hotel is a stunning and unique example of the many five-star resorts in Belek. Most notable is the impeccable service and accommodation but equally impressive is the choice of restaurants and bars, the quality of activities for all the family and the extensive spa. Situated in expansive grounds on a long stretch of beach and with eight swimming pools to enjoy (some with swim-up hotel rooms) this hotel will delight the whole family.
Less ornate but with the same excellent standards as the Cornelia Diamond is its sister hotel; the Cornelia De Luxe Resort. Here you will be wowed by gorgeous landscaping and incredible sea views, appreciated through the largely glassfronted public areas. As with the Cornelia Diamond, the all-inclusive concept is one of Belek's best and is rated highly by guests who return year after year to enjoy the hotel's fabulous beach, five pools and seven restaurants. Most importantly, guests have access to the Cornelia Golf Club (just a 10-minute shuttle ride away) but are also within easy reach of the many other excellent courses in the area.
Designed by Sir Nick Faldo, the Cornelia Golf Club features 27-holes of championship golf made up of three loops of nine all of which can be combined to make three separate 18-hole combinations – the Faldo King, Faldo Queen and Faldo Prince. Golfers of every standard will delight at the world-class facilities on offer, including brilliant practice facilities and the Leadbetter Golf Academy.
Cornelia Diamond Golf Resort & Spa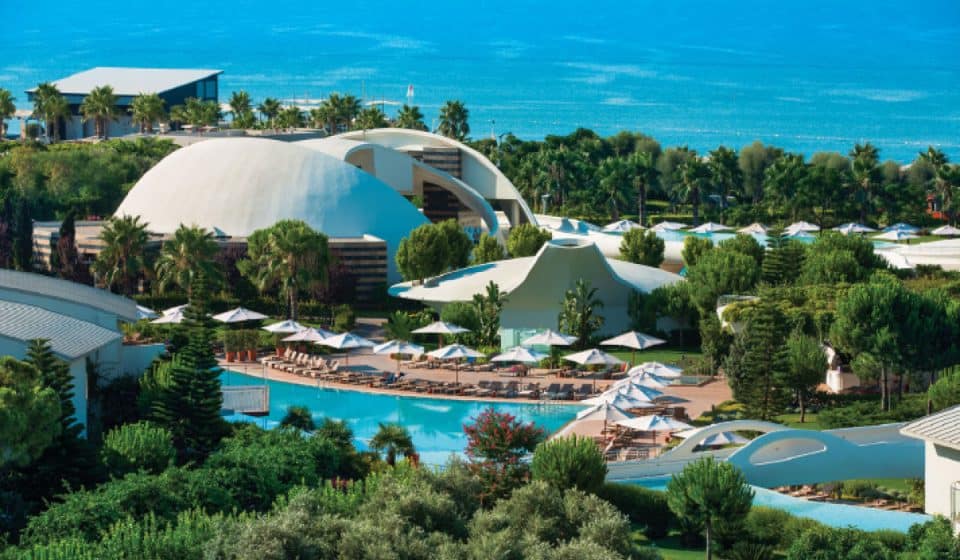 Big is beautiful in the case of the Cornelia Golf Resort & Spa. This spectacular and stylish hotel sits in impressive grounds which roll down to the beach, and is very popular with couples, groups and families.
The hotel's main attraction is its close proximity to the 27-hole Faldo Signature Course, lying just two minutes' transfer from the 5th fairway. Guests of Cornelia Diamond receive courtesy transfers to the Faldo Clubhouse and access to considerably cheaper green fees than non-residents.
The Cornelia Diamond resort has one of the largest spa facilities in Belek, and some of the best standard rooms on this coastline.
The extensive grounds have a huge array of fountains and swimming pools, with amazing facilities for children. There are a series of beautifully landscaped pools leading down to the sea, interspersed with bridges, an amphitheatre, and a la carte restaurants and bars in the garden area.
This is Cornelia's premium brand, with 571 bedrooms open in the summertime. As well as an extensive and varied buffet restaurant, it has an excellent selection of a la carte restaurants.
Elegant Golf Resorts has great value for money Stay & Play packages, including the Faldo and other courses nearby.
The Cornelia De Luxe Resort is one of Belek's finest all inclusive options, and one of Turkey's best golf hotels. The resort is beautifully landscaped and designed with plenty of glass to allow stunning views of the beach from most of its public areas. The pool areas and gardens are superbly laid out, while the hotel beach is excellent.
Golfers enjoy special packages, including golf on the Faldo Signature Course at very competitive prices.
With free golf shuttle transfers to the Faldo Clubhouse which is just five minutes away, golfers are well placed for 27 incredible holes on the region's challenging course.
The Cornelia is rated highly by many returning guests, offering good quality food and beverages, as well as evening entertainment. One of the smaller hotels in Belek, it also provides an enjoyable stay in the winter period, retaining a high level of ambience